Can i swim 1km in open water?
Yes you can… has the idea of an open water swim ever crossed your mind? Maybe like me you thought…." There is no way I can do a race; it is to daunting swimming with hundreds of others. Yes, I can swim 1 or 2km, but I do not want to race!"
STOP – you can do it.
There are 6 weeks to go until the Exmoor Swim and I truly believe that anyone with some basic swim experience in the pool and in open water can do this. You will feel incredible and proud, particularly if this is your first swim. We are well known as the friendly swim. Read on, rope in your mates and surprise yourself.
Let's get you prepared to swim 1km, or, 20 lengths of an Olympic-sized 50m swimming pool and then come and swim with us at the beautiful and scenic Wimbleball Lake on 24 September.
How long does it take to train for a 1 km open water swim?
If you've got a little experience with swimming freestyle and a basic level of general fitness, you can train for a 1km swim from scratch in 4-6 weeks and get a decent time. If you know you can swim but are feeling a bit anxious about the whole thing, you don't care about your time and want to just do it, it will still only take you 4-6 weeks.
How much training am I going to need to do per week?
Ideally a minimum of two to three sessions per week, ranging from 30 mins to an hour will get you to the level you need to be at to confidently stand on the start line and know you can conquer the 1km swim with a smile on your face and butterflies in your tummy! These sessions should include a mixture of speed work and aerobic base training.
Do I have to do front crawl?
No, just get in the water and swim the stroke that works for you. We have hundreds of swimmers who swim the course breaststroke and never even get their hair wet. Set your own goals. Don't worry about what everyone else is doing.
I want to swim front crawl breathing properly but have never really conquered this?
I taught myself to swim front crawl breathing properly by watching videos and just having a go. At my first attempt I managed three lengths and was totally out of breath! I then had one session with a friend who watched me and then gave me a few basic tips about how to breathe efficiently. After 6 weeks I swam the 1k Exmoor Swim front crawl, breathing all the way.
Do I need any open water swim experience?
Yes you do, swimming in a lake is not like swimming in a pool. There is no wall to push off and you can't see the bottom! Find out where you can swim safely local to you or even better with a local group near to you. I guarantee if you contact your open water swim group and tell them what you are up to, they will welcome you with open arms.
Shall I swim skins (no wetsuit) or with a wetsuit?
Up to you, try both if you have a wetsuit, you will know what works for you. If you swim in a wetsuit, you gain additional buoyancy. If you swim skins, you get the benefit of the tingle of the cold on your skin. The most important thing is do what feels right for you. Not everyone can mentally cope with the cold water.
What gear will I need?
Just a pair of Goggles
What will my training look like?
Swim at least 2-3 times a week for 4-6 weeks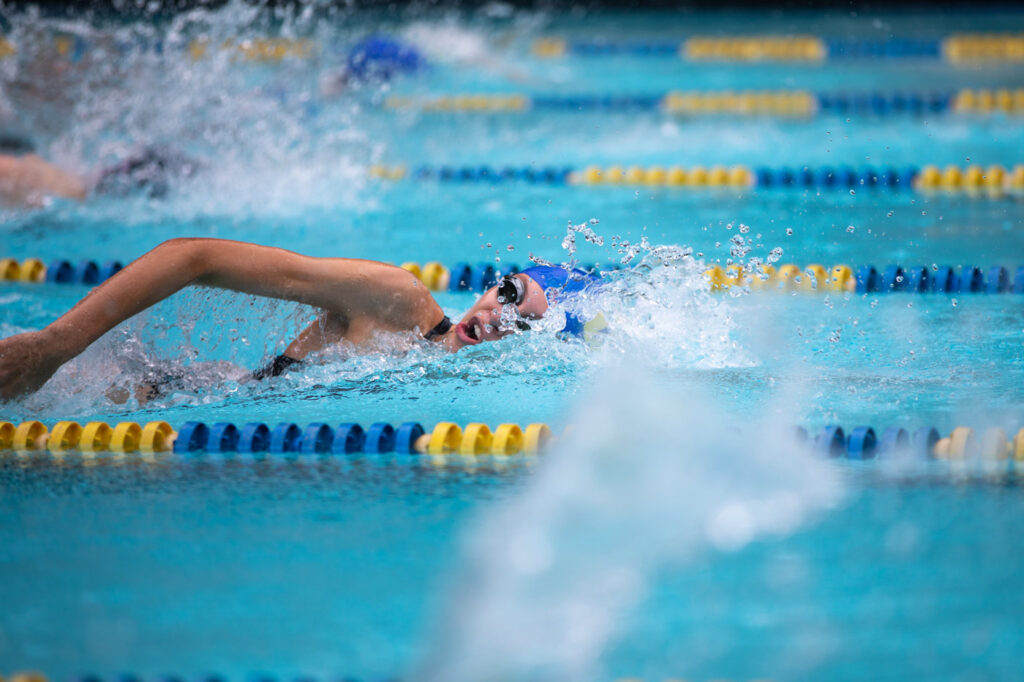 First trip to the pool
Float on your back and your front for a minute
Get used to being underwater and being relaxed
Don't worry about people watching you, you'll soon realise no one is interested in what you are doing or wearing!
If you are using goggles for the first time, try them out, make sure they fit and never leak.
10 x 25m lengths any stroke, easy rate and 10 x 25m any stroke at medium rate. Hop out the pool, have a latte (remember to bring your own reusable cup to your sports centre café) and head home feeling pleased that you have made the decision to do it and are ready to start.
Take a look at this link, our friends at 220 Tri have a lot of experience and we think this beginners guide to taking on an open water swim is great. Here you will find three beginners' sessions to get you started and confident in the water.
Good luck and let us know how you get on – we want to hear your journey. Drop me an email at info@exmoorswim.co.uk